Croissant Recipe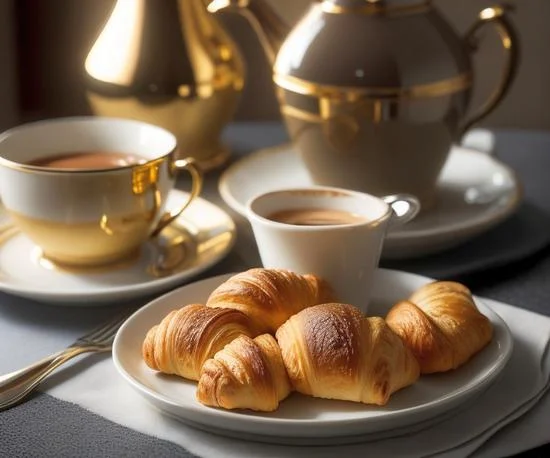 Croissants are delightful flaky pastries with a tender buttery taste. They're crispy on the outside and soft on the inside. This step-by-step recipe will teach you how to make croissants at home like a real baker. Perfect for breakfast or tea time.
Ingredients
For the dough:
All-purpose flour — 500 g, 
Sugar — 70 g, 
Salt — 10 g, 
Dry yeast — 10 g, 
Water — 300 ml, 
Butter (for laminating) — 300 g
For glazing:
Egg yolk — 1, 
Milk — 2 tbsp
4h 30m
cooking
time
12
number
servings

Recipe Difficulty: Medium
How to Make Croissant Recipe
Prepare the Dough:

Mix flour, sugar, salt, and yeast in a deep bowl. 
Gradually add water, kneading the dough. 
Knead the dough until elastic, then refrigerate for 1 hour.

Prepare the Butter for Laminating:

Soften the butter and roll it between two sheets of parchment into a rectangle. Place in the freezer for 15 minutes.

Laminating the Dough:

Roll out the dough into a rectangle, place the butter on it, and fold the dough in half. 
Roll it out again and fold it into 3 layers. Repeat this process 3 times, allowing the dough to rest in the refrigerator for 30 minutes each time.

Shaping the Croissants:

Roll out the dough into a rectangle about 5 mm thick. 
Cut the dough into triangles and roll them into the shape of croissants.

Proofing and Baking:

Place the croissants in a warm place for 1-2 hours to rise. 
Mix the egg yolk with milk and brush the croissants. 
Bake in a preheated oven at 200°C (392°F) for about 15-20 minutes until golden brown.

Serving:

Serve the croissants hot, sprinkled with sugar if desired.
Notes:
The butter for laminating should be of good quality, as it gives the croissants their characteristic flavor and texture. 
Baking time may vary depending on the oven, so keep an eye on the croissants to prevent over-baking.
Enjoy your meal!
Nutrition Facts (per serving)
Calories: 350 kcal 
Proteins: 6 g 
Fats: 22 g 
Carbohydrates: 32 g 
Saturated Fats: 14 g 
Dietary Fiber: 2 g 
Sugar: 6 g

0

29 Jul