Buckwheat Noodle Yakisoba Recipe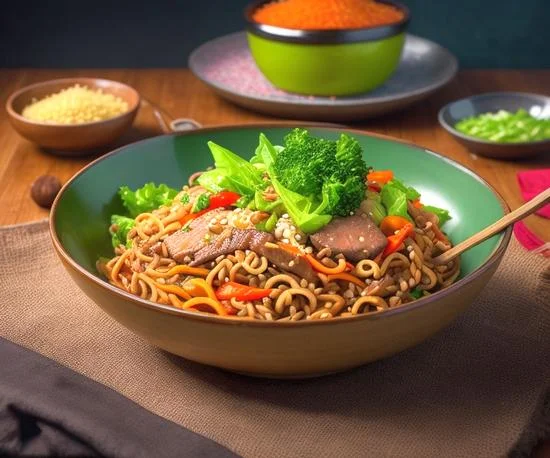 Yakisoba is a classic Japanese dish consisting of stir-fried noodles, meat, and vegetables. In this recipe, we use buckwheat noodles, giving the dish a unique taste and nutritional value. Serve hot, garnished with greens or sesame seeds.
Ingredients
Buckwheat noodles - 2 servings, 
Pork (or other meat of your choice) - 200 g, 
Carrot - 1 pc., 
Cabbage - 200 g, 
Onion - 1 pc., 
Bell pepper - 1 pc., 
Cooking oil, 
Yakisoba sauce (or teriyaki sauce) - 4 tablespoons, 
Soy sauce - 1 tablespoon, 
Sugar - 1 teaspoon, 
Salt, pepper - to taste
30m
cooking
time
2
number
servings

Recipe Difficulty: Medium
How to Make Buckwheat Noodle Yakisoba Recipe
Preparation of ingredients. Cut the meat into thin strips. Cut the carrot, onion, and bell pepper into julienne. Shred the cabbage.
Cooking the noodles. In a large pot, bring water to a boil, add the buckwheat noodles, and cook them for 5-7 minutes, or according to the instructions on the package. Then drain the noodles and rinse them under cold water to stop the cooking process.
Frying the meat and vegetables. In a frying pan, heat the oil, add the meat, and fry it until golden brown. Then add the onion and carrot, and fry for a few more minutes. Add the cabbage and bell pepper, continue frying until the vegetables become soft.
Adding the noodles and sauce. Add the boiled buckwheat noodles to the pan with the meat and vegetables. Then add the yakisoba sauce (or teriyaki), soy sauce, sugar, salt, and pepper. Stir well and fry for a few more minutes so that the noodles absorb the sauce.
Serving. Serve the yakisoba hot, garnishing it with greens, sesame seeds, or dried seaweed if desired.
Enjoy your meal!
Nutrition Facts (per serving)
Calories: 450 kcal 
Protein: 25 g 
Fat: 15 g 
Carbohydrates: 60 g

0

26 Jul