Panda Express Style Chow Mein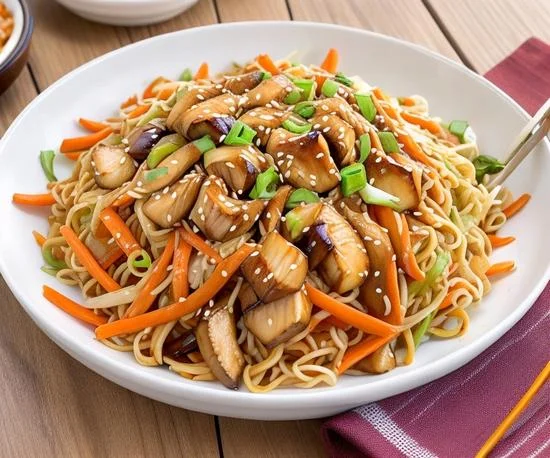 Panda Express style Chow Mein is a delightful dish that combines tender chicken, crunchy vegetables, and flavorful noodles. All stir-fried together with soy sauce, creating a rich and savory taste. This recipe is easy to prepare and perfect for a quick weekday dinner.
Ingredients
2 tablespoons of oil (you can use olive or sesame), 
1/4 kg of chicken breast, 
1 carrot, 
1/2 head of cabbage, 
2 stalks of celery, 
1 leek, 
2 cloves of garlic, 
200 g of chow mein noodles (you can substitute with spaghetti), 
1/4 cup of soy sauce
30m
cooking
time
4
number
servings

Recipe Difficulty: Medium
How to Make Panda Express Style Chow Mein
Start by cutting the chicken breast into small pieces. Slice the carrot, cabbage, celery, and leek into thin strips. Mince the garlic.
Heat the oil in a large skillet or wok. Add the chicken and fry until golden. Remove the chicken from the skillet and set it aside.
Add the carrot, cabbage, celery, and leek to the same skillet. Sauté the vegetables over medium heat until they are soft but still crunchy. Add the minced garlic and sauté for another minute.
While the vegetables are cooking, cook the noodles according to the instructions on the package. Drain the water.
Return the chicken to the skillet with the vegetables. Add the cooked noodles and soy sauce. Stir well to ensure the sauce evenly coats all the ingredients.
Sauté for a couple more minutes to let the noodles get a bit crispy.
Your Panda Express-style Chow Mein is ready! Serve hot.
Nutrition Facts (per serving)
Calories: 350 kcal 
Protein: 25 g 
Fat: 10 g 
Carbohydrates: 40 g 
Fiber: 5 g 
Sugar: 5 g

0

12 Jul