Chicken Noodle Soup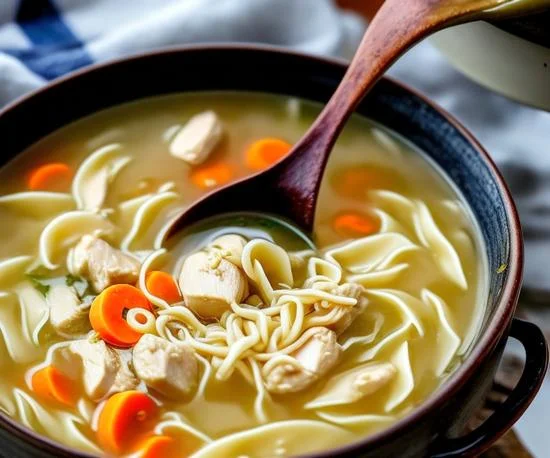 Enjoy a delicious and warming chicken noodle soup. This easy recipe is perfect for a quick lunch or dinner. Detailed step-by-step instructions.
Ingredients
1 chicken or chicken breast (about 500g), 
2 liters of water, 
2 carrots, 
2 celery stalks, 
1 large onion, 
2 cloves of garlic, 
200g of noodles, 
Salt, pepper to taste, 
Fresh herbs for serving (dill, parsley)
1h 20m
cooking
time
6
number
servings

Recipe Difficulty: Light
How to Make Chicken Noodle Soup
Preparation of ingredients. Cut the chicken into pieces, roughly chop the carrots and celery, finely chop the onion and garlic.
Preparation of the broth. Put the chicken in a large pot, add water and bring to a boil. Remove the foam that forms on the surface. Add the carrots, celery, onion, and garlic. Season with salt and pepper to taste. Reduce the heat to medium and cook for about 1 hour.
Adding the noodles. Add the noodles to the pot and cook for another 10-15 minutes until the noodles are soft.
Serving. Serve the soup hot, sprinkling it with fresh herbs.
Enjoy your meal!
Nutrition Facts (per serving)
Calories: 350 kcal 
Protein: 25 g 
Fat: 10 g 
Carbohydrates: 35 g 
Dietary Fiber: 3 g 
Sugars: 5 g

0

02 Jun