Smoked Fish and Avocado Salad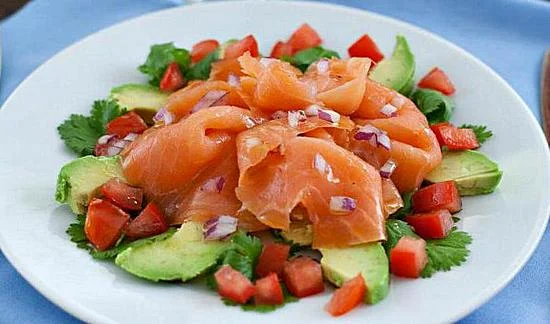 Smoked Fish and Avocado Salad is an incredibly appetizing combination of fresh vegetables, tender smoked salmon, and creamy avocado. Each bite is infused with the flavors of olive oil and lemon juice, creating a perfect balance of sweetness, saltiness, and tanginess. The rich taste of the salad is complemented by the fresh aroma of herbs, adding vibrancy and charm to the dish. This salad will not only satisfy your appetite but also delight your senses, making it an excellent choice for lunch or dinner.
Ingredients
200g smoked fish (salmon, trout, or your preferred fish), 
2 avocados, 
1 large carrot, 
1 small red onion, 
1 cucumber, 
1 bunch of fresh herbs (dill, parsley, or cilantro), 
2 tablespoons olive oil, 
1 tablespoon lemon juice, 
Salt and freshly ground black pepper to taste
30m
cooking
time
4
number
servings

Recipe Difficulty: Light
How to Make Smoked Fish and Avocado Salad
Prepare the ingredients: Cut the smoked fish into small pieces or slices. Cut the avocados in half, remove the pit, and dice the flesh. Peel and cut the carrot into thin strips. Slice the red onion into thin half rings. Dice the cucumber or cut it into thin strips. Finely chop the fresh herbs.
Mix the sliced vegetables and herbs in a large bowl.
Add the sliced smoked fish to the bowl.
In another bowl, prepare the dressing for the salad: Mix the olive oil and lemon juice, and season with salt and black pepper to taste. Mix well.
Pour the dressing over the salad and gently toss everything together, ensuring all the ingredients are coated with the dressing.
Transfer the salad to a serving plate and garnish with additional herbs or lemon wedges if desired.
Enjoy your delicious salad!
This salad has a fresh and rich flavor, and it looks vibrant and appealing. It pairs well with bread or a side of boiled potatoes. I hope you'll enjoy this simple and tasty recipe!
Nutrition Facts (per serving)
Calories: about 300-350 kcal 
Protein: about 20 g 
Fat: about 20 g 
Carbohydrates: about 15 g 
Fiber: about 8 g 
Sugar: about 4 g 
Sodium: about 500 mg

0

25 Jul