Royal Curd Tart with Peaches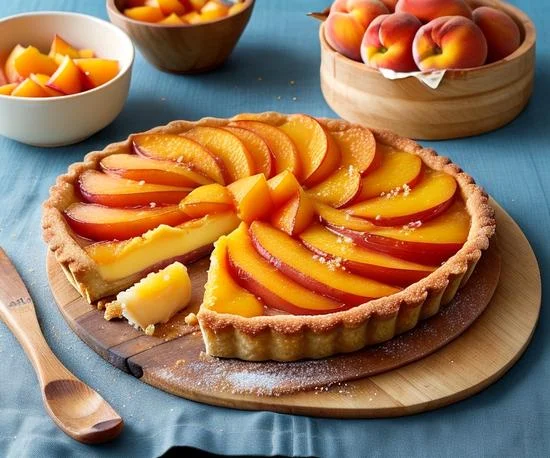 This recipe for a royal curd tart with peaches is the perfect choice for those who love sweet pastries. The combination of tender curd cream and sweet peaches inside a shortcrust pastry creates a unique taste. This dish is perfect for morning tea or an evening dessert.
Ingredients
For the dough:
500 g of flour, 
200 g of sugar, 
200 g of butter,  
1 egg, 
1 tsp of baking powder
For the filling:
500 g of cottage cheese (curd), 
2 eggs, 
100 g of sugar,  
1 tsp of vanilla extract, 
4 peaches
1h 40m
cooking
time
8
number
servings

Recipe Difficulty: Medium
How to Make Royal Curd Tart with Peaches
Preparing the dough: In a large bowl, mix the flour, sugar, and baking powder. Add the butter and egg, then knead the dough. It should be elastic and not stick to your hands. Leave the dough in the refrigerator for 30 minutes.
Preparing the filling: Blend the cottage cheese with eggs, sugar, and vanilla extract until smooth. Cut the peaches into small pieces.
Assembling the tart: Preheat the oven to 180 degrees Celsius (350 degrees Fahrenheit). Roll out the dough and place it in a pie dish, making edges. Pour the curd filling, then evenly distribute the pieces of peaches on top.
Baking: Bake the tart in the oven for about 40-45 minutes, or until golden brown. Check for readiness with a toothpick - it should come out dry from the center of the tart.
Cooling: Allow the tart to cool completely before serving. This will allow the filling to set and the tart will be easier to cut.
Enjoy your meal!
Nutrition Facts (per serving)
Calories: 450 kcal 
Proteins: 15 g 
Fats: 20 g 
Carbohydrates: 55 g

0

20 Jul