Onion Waffles with Zucchini and Cheese on Coconut Flour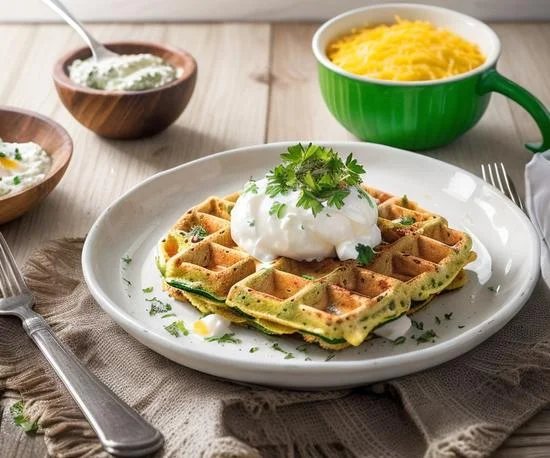 This unique recipe for onion waffles with zucchini and cheese on coconut flour is a perfect blend of taste and health. The waffles are tender and flavorful, and thanks to the coconut flour, they're also gluten-free. It's a great option for breakfast or a light dinner, which can be served with sour cream or yogurt.
Ingredients
1 large onion, 
1 medium zucchini, 
1 cup of coconut flour, 
1/2 cup of grated cheese (you can use blue cheese for a more distinct flavor if desired), 
2 eggs, 
1/2 teaspoon of salt, 
1/4 teaspoon of black pepper, 
Oil for greasing the waffle iron
30m
cooking
time
4
number
servings

Recipe Difficulty: Medium
How to Make Onion Waffles with Zucchini and Cheese on Coconut Flour
Chop the onion into small pieces and sauté in a pan until golden. Set aside.
Grate the zucchini and squeeze out the excess liquid.
In a large bowl, mix the coconut flour, salt, and pepper.
Add the eggs, sautéed onion, grated zucchini, and cheese to the bowl. Mix well.
Heat up the waffle iron and grease it with oil.
Spoon the batter into the waffle iron and close it. Cook the waffles until golden. The cooking time may vary depending on your waffle iron, but it usually takes about 5-7 minutes.
Repeat the process with the remaining batter.
Serve the waffles hot. They pair well with sour cream or yogurt.
Enjoy your meal!
Nutrition Facts (per serving)
Calories: 250 kcal 
Protein: 10 g 
Fat: 15 g 
Carbohydrates: 20 g 
Dietary Fiber: 5 g 
Sugar: 3 g

0

19 Jul