Asian Orange Chicken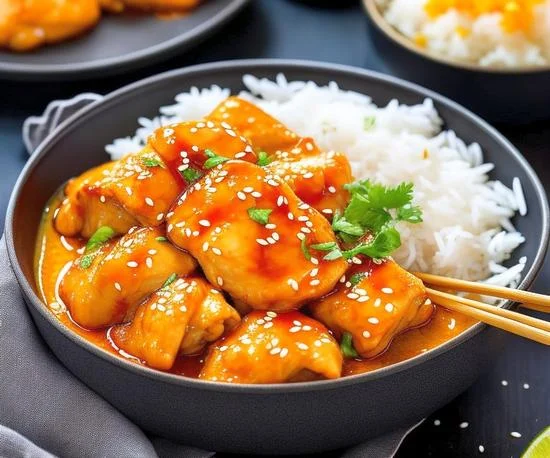 Try this delicious and flavorful Asian Orange Chicken recipe. This dish combines juicy chicken fried to a golden brown and a sweet citrus sauce. Perfect for dinner with rice or noodles.
Ingredients
500 grams of chicken breast, 
1 tablespoon of soy sauce, 
1 tablespoon of cornstarch, 
Oil for frying
For the sauce:
Juice of 2 oranges (about 1/2 - 3/4 cup), 
1 tablespoon of orange zest, 
2 tablespoons of soy sauce, 
2 tablespoons of rice vinegar (or white wine vinegar), 
1/4 cup of chicken broth, 
1/4 cup of sugar, 
1 teaspoon of cornstarch
30m
cooking
time
4
number
servings

Recipe Difficulty: Medium
How to Make Asian Orange Chicken
Cut the chicken breast into small pieces. In a bowl, mix the chicken, soy sauce, and cornstarch. Leave for 10-15 minutes to marinate.
In a large frying pan or wok, heat the oil. Add the chicken and fry until golden. Transfer the chicken to a paper towel to remove excess fat.
In the same pan, prepare the sauce. Mix the orange juice, zest, soy sauce, vinegar, broth, sugar, and cornstarch. Bring to a boil, then reduce the heat and cook, stirring, until the sauce thickens.
Return the chicken to the pan and mix well so that the chicken is covered with the sauce. Cook for another 2-3 minutes.
Serve hot, sprinkled with herbs and sesame seeds if desired. It pairs well with rice or noodles.
Enjoy your meal!
Nutrition Facts (per serving)
Calories: 310 kcal 
Protein: 25 g 
Fat: 13 g 
Carbohydrates: 20 g

0

22 Jun