Cocoa-Based Chocolate French Toast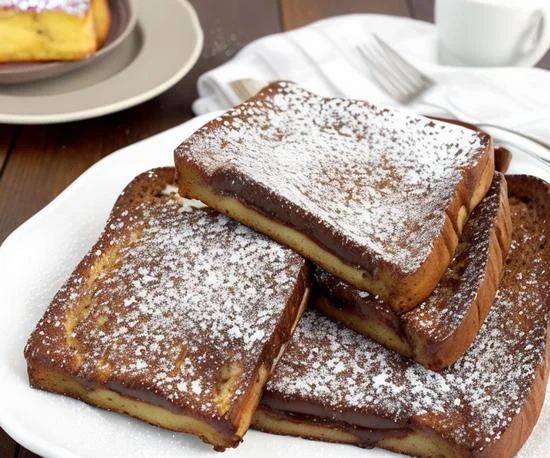 Cocoa-based chocolate French toast is the perfect choice for a sweet breakfast or dessert. This recipe is simple to prepare and requires just a few basic ingredients: white bread, cocoa powder, milk, sugar, and eggs. The French toast is fried to a golden brown and served hot, dusted with powdered sugar. They pair excellently with ice cream or fresh fruits. Try this delicious and cozy recipe today!
Ingredients
White bread - 8 slices, 
Cocoa powder - 3 tablespoons, 
Milk - 1/2 cup, 
Sugar - 3 tablespoons, 
Eggs - 2, 
Vegetable oil - for frying, 
Powdered sugar - for serving
20m
cooking
time
4
number
servings

Recipe Difficulty: Easy
How to Make Cocoa-Based Chocolate French Toast
Prepare the bread: Take slices of white bread and cut off the crusts. If you want the French toast to be more tender, use fresh bread. If you prefer crispy French toast, use day-old bread.
Prepare the cocoa mixture: In a bowl, crack the eggs, add sugar, and beat well with a fork or whisk. Add the milk and mix. Add the cocoa powder and mix well until the cocoa is fully dissolved and there are no lumps.
Soak the bread: Dip each slice of bread into the cocoa mixture, allowing the bread to fully soak up the mixture.
Fry the French toast: Heat a pan over medium heat and add a bit of vegetable oil. When the oil is hot, add the French toast and fry until golden brown on each side, which will take about 2-3 minutes per side.
Serve: Dust the finished French toast with powdered sugar and serve hot. They pair excellently with ice cream or fresh fruits.
Enjoy your meal!
Nutrition Facts (per serving)
Calories: 250 kcal 
Protein: 8 g 
Fat: 10 g 
Carbohydrates: 35 g

0

10 Jul