Cheese Chowder Soup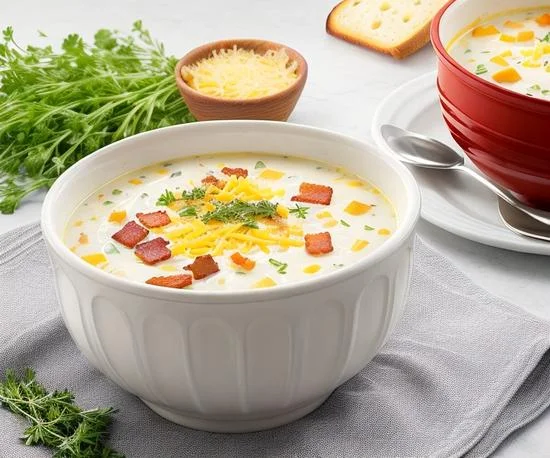 Cheese Chowder Soup is a hearty, creamy dish that's perfect for dinner on cold days. The soup is made from fresh vegetables, chicken broth, cream, and cheddar cheese, giving it a unique taste and aroma. Ham or bacon adds an extra zest to the dish. Serve hot, sprinkled with fresh herbs.
Ingredients
2 tablespoons of butter, 
1 medium onion, finely chopped, 
2 celery stalks, finely chopped, 
2 carrots, finely chopped, 
3 cloves of garlic, minced, 
4 tablespoons of flour, 
1 liter of chicken broth, 
500 g of potatoes, diced, 
1 teaspoon of thyme, 
Salt and pepper to taste, 
2 cups of cream, 
2 cups of shredded cheddar cheese, 
200 g of ham or bacon, diced, 
Fresh herbs for serving (parsley, dill)
45m
cooking
time
6
number
servings

Recipe Difficulty: Medium
How to Make Cheese Chowder Soup
Heat the butter in a large pot over medium heat. Add the onion, celery, carrot, and garlic. Cook, stirring, until the vegetables are soft, about 5 minutes.
Add the flour, mix well and cook for another 1-2 minutes.
Slowly pour in the chicken broth, constantly stirring to avoid lumps. Add the potatoes, thyme, salt, and pepper. Bring to a boil, then reduce the heat and simmer for about 15 minutes, or until the potatoes are soft.
Add the cream and cheese, stirring until the cheese is completely melted.
In a separate pan, fry the ham or bacon until crispy. Add to the soup.
Serve the soup hot, sprinkled with fresh herbs.
Enjoy your meal!
Nutrition Facts (per serving)
Calories: 450 kcal 
Protein: 20 g 
Fat: 30 g 
Carbohydrates: 25 g

0

10 Jul