Classic Carbonara with Bacon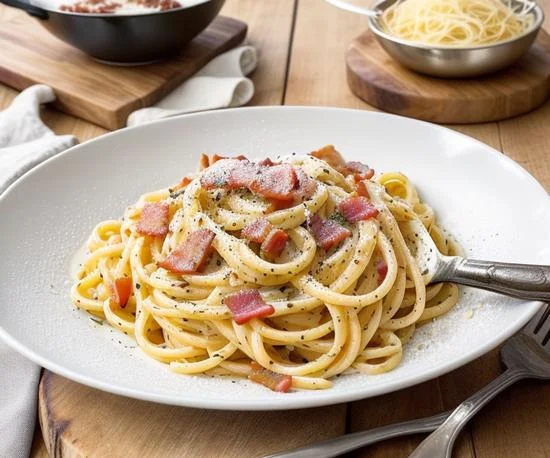 Classic Carbonara is a wonderful Italian dish that combines simplicity and fantastic flavor. The recipe is based on spaghetti, bacon, egg yolks, and parmesan. The dish is quick and easy to prepare, making it a perfect option for lunch or dinner. Serve the carbonara hot, sprinkled with freshly ground black pepper.
Ingredients
Spaghetti - 200 g, 
Bacon - 150 g, 
Egg yolks - 2 pcs., 
Parmesan cheese - 50 g, 
Black pepper - to taste, 
Salt - to taste
30m
cooking
time
2
number
servings

Recipe Difficulty: Light
How to Make Classic Carbonara with Bacon
Prepare the ingredients. Cut the bacon into small pieces. Grate the cheese on a fine grater. Separate the yolks from the whites.
Cook the spaghetti. Put the spaghetti in boiling salted water and cook until al dente (they should be slightly hard inside), following the instructions on the package.
Cook the bacon. In a deep frying pan, fry the bacon until crispy. Do not add oil, as the bacon will release its own fat.
Mix the yolks and cheese. In a separate bowl, mix the yolks and grated cheese until smooth.
Mix everything together. When the spaghetti is ready, set aside some of the water they were boiled in, then drain the rest. Add the spaghetti to the pan with the bacon and mix well so that the spaghetti is coated in the bacon fat.
Add the yolk and cheese mixture. Remove the pan from the heat and quickly add the yolk and cheese mixture, stirring vigorously. The yolks should slightly curdle from the heat, but not turn into scrambled eggs. If the sauce is too thick, add a little of the pasta water to thin it out.
Serve the dish. Sprinkle the carbonara with freshly ground black pepper and serve immediately.
Enjoy your meal!
Nutrition Facts (per serving)
Calories: 600 kcal 
Proteins: 25 g 
Fats: 35 g 
Carbohydrates: 50 g

0

06 Jul