Drunken Baked Beans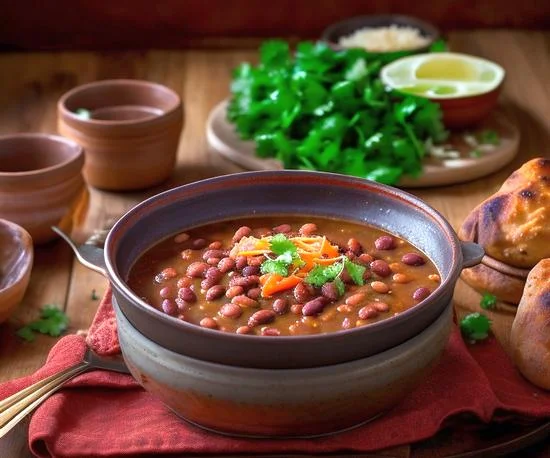 Frijoles Borrachos, or Drunken Baked Beans, is a traditional Mexican dish that combines the rich flavors of beans, beer, and spices. This recipe provides detailed step-by-step instructions for preparing this hearty dish, perfect for a family lunch or dinner. The beans are slow-cooked in beer and chicken broth, giving them a unique taste and aroma.
Ingredients
500 grams of beans (you can use black or pinto beans), 
1 large onion, finely chopped, 
2 cloves of garlic, minced, 
1 green pepper, finely chopped, 
2 tablespoons of olive oil, 
1 teaspoon of ground cumin, 
1 teaspoon of ground coriander, 
1/2 teaspoon of cayenne pepper (or to taste), 
1 cup of beer (you can use dark or light, depending on preference), 
1 cup of chicken broth, 
Salt and pepper to taste
2h 15m
cooking
time
6
number
servings

Recipe Difficulty: Medium
How to Make Drunken Baked Beans
If you are using dry beans, soak them overnight. If you are using canned beans, simply rinse them.
In a large skillet or deep pot, heat the olive oil over medium heat. Add the onion, garlic, and green pepper, sauté until they become soft and fragrant.
Add the spices (cumin, coriander, cayenne pepper), stir and cook for another minute.
Add the beans, beer, and chicken broth. Season with salt and pepper to taste.
Bring to a boil, then reduce the heat to low and simmer until the beans are soft and the sauce has thickened. This can take anywhere from 1 to 2 hours, depending on the type of beans you are using.
Serve hot, garnished with herbs or sour cream if desired.
Enjoy your meal!
Nutrition Facts (per serving)
Calories: 350 kcal 
Protein: 18 g 
Fat: 9 g 
Carbohydrates: 45 g 
Fiber: 15 g 
Sugar: 3 g

0

30 Jun