Lamb Shanks Braised in Wine with Rosemary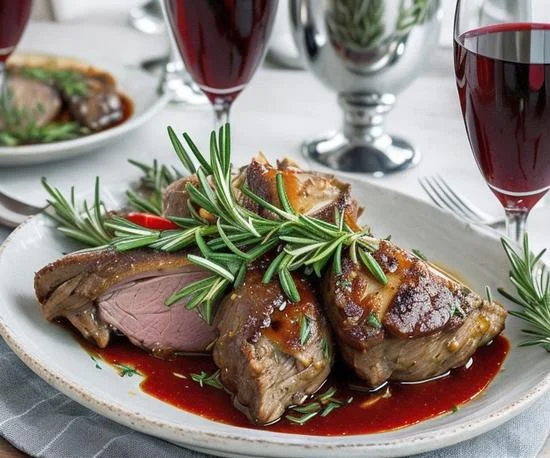 Prepare a flavorful and tender dish of lamb shanks braised in wine with rosemary. This recipe is perfect for a special occasion or a weekend dinner. Lamb shanks, browned to a golden hue, then slow-cooked in a rich wine sauce with rosemary and thyme. The result is incredibly tender and juicy meat that simply melts in your mouth. Serve with mashed potatoes or fresh vegetables.
Ingredients
4 lamb shanks, 
2 tablespoons of olive oil, 
Salt and freshly ground black pepper to taste, 
1 large onion, chopped, 
3 cloves of garlic, minced, 
1 tablespoon of fresh rosemary (or 1 teaspoon dried), 
1 tablespoon of fresh thyme (or 1 teaspoon dried), 
1 bottle of red wine, 
4 cups of beef broth, 
2 tablespoons of tomato paste
3h 0m
cooking
time
4
number
servings

Recipe Difficulty: Medium
How to Make Lamb Shanks Braised in Wine with Rosemary
Preheat your oven to 160 degrees Celsius.
Heat the olive oil in a large heavy-bottomed pot over medium heat. Season the lamb shanks with salt and pepper, then brown them in the oil on all sides. Remove the meat and set it aside.
In the same pot, sauté the onion until golden. Add the garlic, rosemary, and thyme, and cook for another 1-2 minutes.
Stir in the tomato paste. Then add the wine, stirring constantly to lift all the juicy bits off the bottom of the pot.
Return the lamb shanks to the pot, add the beef broth. The liquid should almost completely cover the meat.
Cover the pot and place it in the oven. Braise for 2-2.5 hours, or until the meat is very tender.
Serve hot, garnished with fresh sprigs of rosemary and thyme.
Enjoy your meal!
Nutrition Facts (per serving)
Calories: about 600 kcal 
Protein: 50 g 
Fat: 30 g 
Carbohydrates: 15 g

0

08 Jul