Strawberry Jam with Black Pepper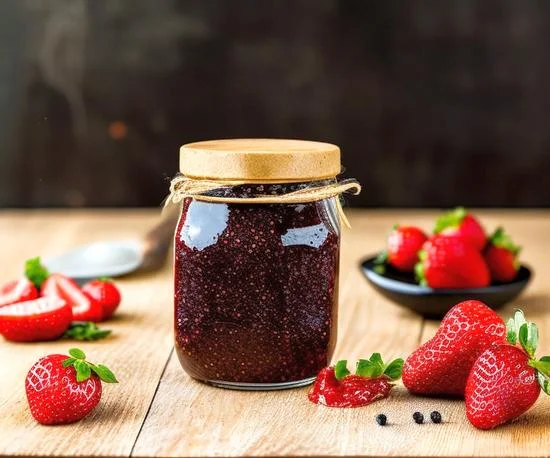 This unusual recipe for strawberry jam with black pepper will surprise you with its unique taste. The spiciness of the pepper perfectly complements the sweetness of the strawberries, creating an unforgettable aroma.
Ingredients
Strawberries - 1 kg, 
Sugar - 1 kg, 
Black peppercorns - 1 teaspoon, 
Lemon juice - 2 tablespoons
1h 10m
cooking
time
4
number
servings

Recipe Difficulty: Medium
How to Make Strawberry Jam with Black Pepper
Preparation of ingredients. Wash the strawberries and remove the stems. Slightly crush the black peppercorns in a mortar to release the flavor.
Making the syrup. In a large pot, mix the sugar with 1/2 cup of water. Put it on low heat and cook until the sugar is completely dissolved.
Adding the strawberries. Add the strawberries to the syrup, increase the heat to medium and cook for 10-15 minutes until the strawberries are soft, but do not overcook them to a puree.
Adding pepper and lemon juice. Add the black pepper and lemon juice, stir well.
Cooking the jam. Cook the jam for another 20-30 minutes until it thickens. Check for readiness by dropping a little jam on a cold plate - it should quickly set and not spread.
Pouring the jam into jars. Pour the hot jam into sterilized jars, close with lids. Leave the jars to cool upside down.
Storage. After completely cooling down, the jars can be stored in a cool dark place.
Enjoy your meal! This jam is perfect for morning tea or as a filling for a pie.
Nutrition Facts (per serving)
Calories: 200 kcal 
Proteins: 0.5 g 
Fats: 0.2 g 
Carbohydrates: 50 g

0

08 Jun