Rolled Sugar Cookies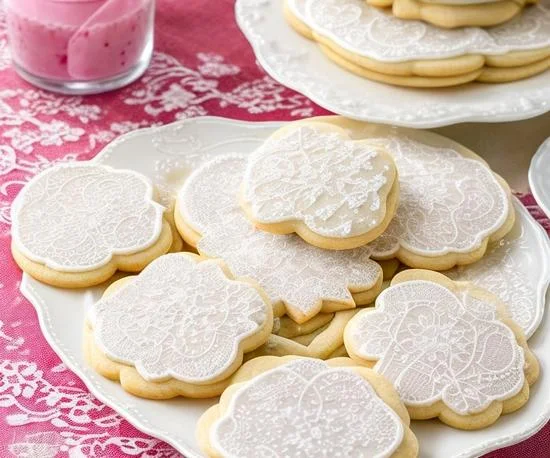 Enjoy the taste of these delicate and sweet rolled sugar cookies that are perfect for any holiday. This detailed step-by-step recipe will guide you in making the perfect cookies that you can decorate to your liking. The cookies come out soft and airy, with a golden crust and sweet icing.
Ingredients
1 1/2 cups (340g) softened butter, 
2 cups (400g) white sugar, 
4 eggs, 
1 teaspoon vanilla extract, 
5 cups (625g) all-purpose flour, 
2 teaspoons baking powder, 
1 teaspoon salt
For the icing (optional):
1 cup (125g) confectioners' sugar, 
2 teaspoons milk, 
2 teaspoons light corn syrup, 
1/4 teaspoon vanilla or almond extract, 
Food coloring (optional)
2h 0m
cooking
time
60
number
servings

Recipe Difficulty: Medium
How to Make Rolled Sugar Cookies
In a large bowl, cream together butter and sugar until smooth. Gradually beat in eggs and vanilla extract, mixing well.
In another bowl, combine flour, baking powder, and salt. Gradually add the dry ingredients to the butter mixture, stirring until a smooth dough forms.
Wrap the dough in plastic wrap and chill in the refrigerator for at least 1 hour, or until firm.
Preheat your oven to 400 degrees F (200 degrees C).
On a floured surface, roll out the dough to about 1/4-1/2 inch (0.6-1.2 cm) thickness. Cut out cookies using cookie cutters.
Place cookies onto a baking sheet lined with parchment paper and bake in the preheated oven for 6-8 minutes, or until lightly golden.
Allow cookies to cool on the baking sheet for 5 minutes, then transfer to a wire rack to cool completely.
Prepare the icing: In a small bowl, stir together confectioners' sugar, milk, corn syrup, and extract until smooth. If you want to add colors, divide the icing into several portions and add food coloring.
Once the cookies are completely cooled, decorate them with the icing. Use a spoon, a piping bag, or a plastic bag with a corner cut off to apply the icing.
Allow the icing to harden by leaving the cookies out for several hours or until the icing is fully set.
Once the icing has hardened, the cookies can be stored in airtight containers or bags. Store in a cool place.
Enjoy! These sugar cookie rolls are perfect for holidays, and you can use different cookie cutters and decorations to make them unique and thematic.
Nutrition Facts (per serving)
Calories: 120 kcal 
Protein: 1.5 g 
Fat: 5 g 
Carbohydrates: 17 g 
Sugar: 9 g 
Sodium: 80 mg

0

02 Jul