Hvost with Condensed Milk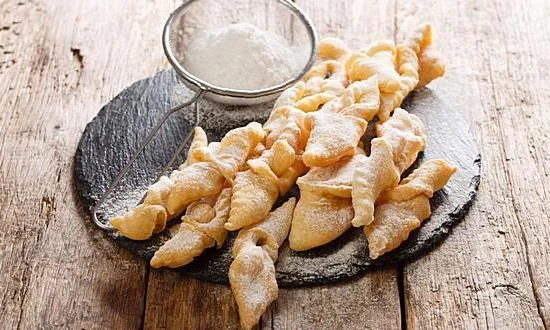 Hvost with condensed milk is a delicious and crispy treat that's perfect for tea time. This recipe explains how to make hvost step by step, from preparing the dough to frying and sprinkling with sugar.
Ingredients
Condensed milk - 200 g, 
Egg - 1 pc., 
Sugar - 2 tbsp (plus extra for sprinkling), 
Salt - 1/4 tsp, 
Baking powder - 1/2 tsp, 
Vanilla sugar - 1 tsp (optional), 
Flour - about 2 cups, 
Vegetable oil - for frying
1h 0m
cooking
time
6
number
servings

Recipe Difficulty: Medium
How to Make Hvost with Condensed Milk
Prepare the dough: In a deep bowl, mix the condensed milk, egg, sugar, salt, and vanilla sugar (if using). Stir well.
Add the flour: Gradually add the flour, stirring the dough. Add the baking powder and continue to add flour until the dough becomes elastic and does not stick to your hands.
Knead the dough: Transfer the dough to a table sprinkled with flour and knead it for about 5-7 minutes until it becomes smooth.
Form the sticks: Divide the dough into several parts and roll each into a thin layer. Cut the layers into strips about 1 cm wide.
Fry the hvost: In a pot or deep frying pan, heat the vegetable oil. When the oil is hot, lower the dough sticks into the oil and fry them until golden brown on both sides.
Sprinkle with sugar: Place the ready hvost on a paper towel to get rid of excess oil. While the hvost is still hot, sprinkle it with sugar.
Serve: Serve the hvost warm or let it cool and serve as a dessert or treat with tea.
Tips:
You can add a little cinnamon or cardamom to the dough for extra flavor. 
If you want to make the hvost sweeter, you can roll it in a mixture of sugar and cinnamon after frying. 
Be careful when working with hot oil to avoid burns. Use tongs or a spoon with a long handle to lower and remove the hvost from the oil. 
Hvost is best stored in an airtight container to keep it crispy.
Enjoy your meal! Enjoy the taste of traditional Russian hvost with notes of sweet condensed milk.
Nutrition Facts (per serving)
Calories: 350 kcal 
Protein: 6 g 
Fat: 15 g 
Carbohydrates: 50 g

0

18 Jun