Air Fryer Spanakopita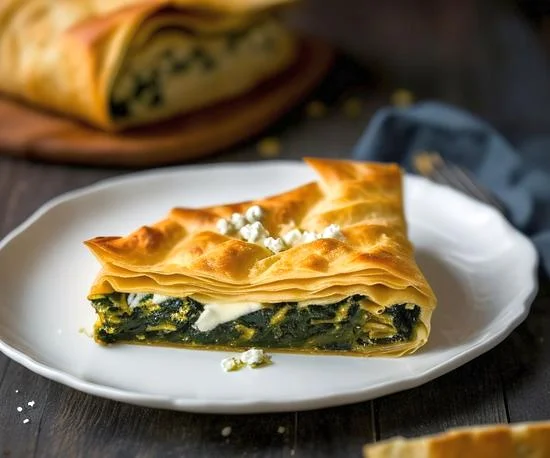 Spanakopita is a traditional Greek dish consisting of spinach, feta, onions, and eggs baked in a thin layer of filo pastry. This recipe suggests preparing it in an air fryer, making the process quick and easy, and the result crispy and golden. Serve hot as an appetizer or light lunch.
Ingredients
500g spinach, 
200g feta cheese, 
1 large onion, 
2 cloves of garlic, 
1/2 teaspoon nutmeg, 
2 eggs, 
1 pack of filo pastry, 
100g butter, 
Salt and pepper to taste
45m
cooking
time
6
number
servings

Recipe Difficulty: Medium
How to Make Air Fryer Spanakopita
Chop the onion and garlic and sauté in a pan until golden.
Add the spinach and cook until it wilts. Drain off any excess liquid.
In a large bowl, mix the spinach, onion, minced garlic, nutmeg, eggs, and crumbled feta. Season with salt and pepper to taste.
Preheat the air fryer to 180 degrees Celsius.
Unroll the filo pastry and keep it covered with a damp towel to prevent it from drying out. Take one sheet of pastry, brush it with melted butter, and place some of the filling on it. Fold the pastry lengthwise, then fold it into a triangle, continuing to fold until the pastry is used up.
Place the spanakopita in the air fryer and cook for 10-15 minutes or until golden brown.
Serve hot.
Enjoy your meal!
Nutrition Facts (per serving)
Calories: 350 kcal 
Protein: 12 g 
Fat: 20 g 
Carbohydrates: 30 g

0

30 Jun