Classic Macaroni Salad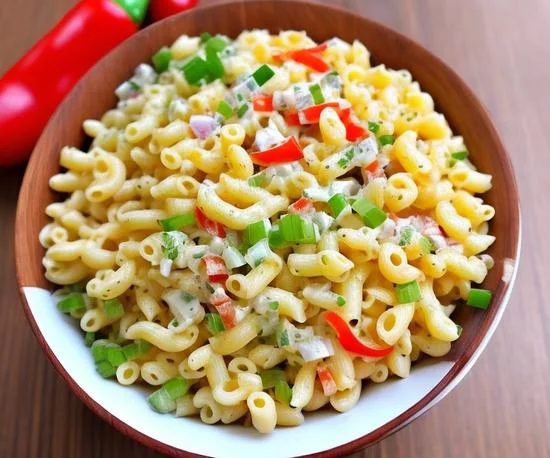 Discover our simple and delicious recipe for Classic Macaroni Salad. Perfect for picnics, barbecues, or as a light lunch. Prepare and enjoy!
Ingredients
2 cups of macaroni (any kind, but elbow macaroni is commonly used), 
1/2 cup of mayonnaise, 
1/4 cup of sweet pickle relish, 
1 tablespoon of vinegar, 
1 tablespoon of mustard, 
1/2 teaspoon of salt, 
1/4 teaspoon of black pepper, 
1 red bell pepper, diced, 
1 celery stalk, diced, 
1 small onion, diced, 
1/4 cup of chopped green onions
2h 30m
cooking
time
6
number
servings

Recipe Difficulty: Easy
How to Make Classic Macaroni Salad
In a large pot, bring water to a boil and add the macaroni. Cook it for 8-10 minutes or until it's al dente. Then, drain the macaroni in a colander and rinse it with cold water to stop the cooking process.
While the macaroni is cooling, in a bowl, mix together the mayonnaise, sweet pickle relish, vinegar, mustard, salt, and pepper. This will be your salad dressing.
In a large bowl, add the cooled macaroni, diced red bell pepper, celery, onion, and green onions. Then, add the prepared dressing and mix well so that all the ingredients are evenly coated with the dressing.
Cover the bowl and refrigerate for 1-2 hours before serving. This will allow all the ingredients to soak up the dressing and give the salad a rich flavor.
Before serving, give the salad another good stir. If you want, you can add some more fresh green onions for garnish.
And that's it! Your Classic Macaroni Salad is ready to be served. This recipe is easy to modify by adding other ingredients to taste, such as boiled eggs, tuna, or chicken. Enjoy your meal!
Nutrition Facts (per serving)
Please note that these values are approximate and can vary depending on the specific ingredients you use.
Calories: 350 
Protein: 7g 
Fat: 18g (of which Saturated: 3g) 
Carbohydrates: 40g (of which Dietary Fiber: 2g, Sugars: 6g) 
Sodium: 450mg 
Cholesterol: 10mg
This macaroni salad is a source of carbohydrates and contains some protein. It also contains fats, most of which come from the mayonnaise in the dressing.

0

30 May