Zucchini Casserole with Smoked Sausage and Cheese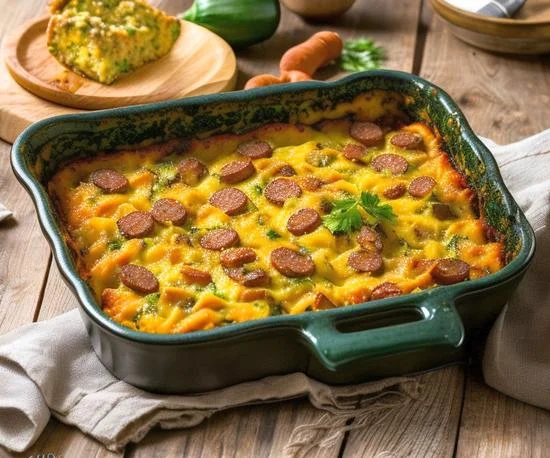 This delicious and hearty zucchini casserole with smoked sausage and cheese is a perfect option for lunch or dinner. Easy to prepare, it combines the tenderness of zucchini, the aroma of sausage and cheese. Served hot.
Ingredients
Zucchini - 2 pcs. (medium size), 
Smoked sausage - 200 g, 
Cheese - 200 g, 
Onion - 1 pc., 
Garlic - 2 cloves, 
Eggs - 3 pcs.,  
Sour cream - 3 tbsp., 
Salt, pepper - to taste, 
Herbs (dill, parsley) - to taste, 
Oil for greasing the form
1h 0m
cooking
time
4
number
servings

Recipe Difficulty: Medium
How to Make Zucchini Casserole with Smoked Sausage and Cheese
Preparation of ingredients. Wash and peel the zucchini, onion, and garlic. Slice the zucchini into thin round slices. Cut the sausage and cheese into small cubes. Cut the onion into small cubes, and mince the garlic.
Preparation of the filling. Fry the onion in a pan until golden brown. Add the sausage to it and continue frying for a few more minutes. Then add the zucchini and garlic, salt and pepper to taste. Stew everything together for another 5-7 minutes.
Preparation of the pouring. In a separate bowl, beat the eggs, add sour cream and grated cheese (leave some cheese for sprinkling). Salt and pepper to taste. Add finely chopped herbs.
Assembling the casserole. Grease the baking dish with oil. Put the prepared filling in it. Pour everything with the pouring.
Baking. Sprinkle the remaining cheese on top. Bake in a preheated oven to 180 degrees for about 30-40 minutes, until golden brown.
Serving. Let the casserole cool down a bit, then cut into portions and serve.
Enjoy your meal!
Nutrition Facts (per serving)
Calories: 350 kcal 
Proteins: 20 g 
Fats: 25 g 
Carbohydrates: 15 g

0

29 Jun