Classic Caesar Salad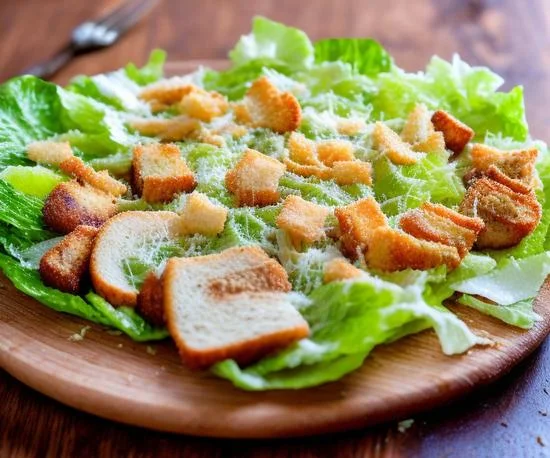 Try our detailed step-by-step recipe for making a classic Caesar Salad. With juicy chicken, crunchy croutons, fresh lettuce, and homemade Caesar dressing, this salad will become your favorite!
Ingredients
Romaine lettuce - 1 head, 
Chicken breast - 2 pieces, 
Garlic - 2 cloves, 
Croutons - 100 g, 
Parmesan cheese - 50 g, 
Egg - 1 piece, 
Lemon juice - 1 tbsp, 
Olive oil - 50 ml, 
Mustard - 1 tsp, 
Salt, pepper - to taste
30m
cooking
time
4
number
servings

Recipe Difficulty: Medium
How to Make Classic Caesar Salad
Preparing the chicken: Season the chicken breast with salt and pepper, then fry it in a pan with a little olive oil until golden brown. After frying, let the chicken cool, then cut it into thin strips.
Preparing the croutons: Cut white bread into cubes, then fry them in a pan with garlic and olive oil until golden brown.
Preparing Caesar sauce: Beat an egg in a blender or mixer, then add garlic, mustard, lemon juice, and olive oil. Beat until smooth. Add grated parmesan, salt, and pepper to taste, then beat again until well combined.
Assembling the salad: Tear the lettuce leaves by hand and place them at the bottom of a large salad plate. Distribute the chicken and croutons on top. Pour all with Caesar sauce and sprinkle with grated parmesan.
Your classic Caesar Salad is ready! Enjoy your meal!
Nutrition Facts (per serving)
Calories: 350 kcal 
Protein: 25 g 
Fat: 20 g 
Carbohydrates: 15 g
Please note that these values are approximate and can vary depending on the serving size and the specific ingredients you use.

0

01 Jun