Lahmacun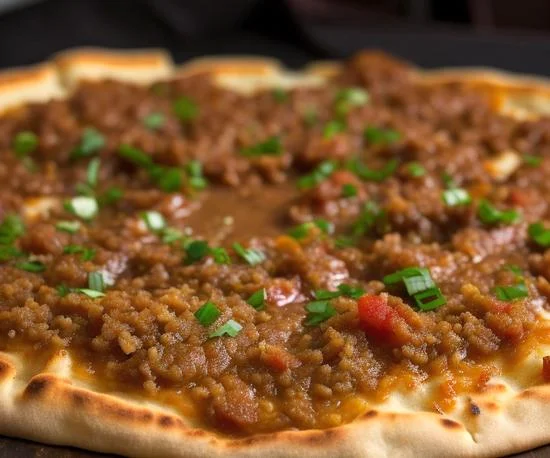 Lahmacun, also known as "Turkish pizza," is a traditional dish consisting of a thin flatbread topped with a layer of minced meat and vegetables. Our step-by-step recipe will help you prepare this delicious and hearty dinner.
Ingredients
For the dough:
500 g of flour, 
200 ml of warm water, 
1 teaspoon of salt, 
1 teaspoon of sugar, 
1 tablespoon of vegetable oil, 
1 teaspoon of dry yeast
For the topping:
500 g of minced meat (beef, lamb, or pork), 
2 large onions, 
2 cloves of garlic, 
2 large tomatoes, 
1 bell pepper, 
1 teaspoon of red pepper, 
1 teaspoon of black pepper, 
Salt to taste, 
Herbs (parsley, dill, basil) to taste
2h 30m
cooking
time
12
number
servings

Recipe Difficulty: Medium
How to Make Lahmacun
First, prepare the dough. Add sugar and yeast to the warm water, stir and leave for 10-15 minutes to activate the yeast.
Pour the flour into a large bowl, add salt and vegetable oil. Then add the water with yeast and knead the dough. It should be soft and elastic. Leave the dough under a food film for 1-2 hours in a warm place to rise.
While the dough is rising, prepare the topping. Finely chop the vegetables and herbs, add the minced meat, spices, and salt. Mix well.
When the dough has risen, divide it into equal parts (about 10-12 pieces). Roll out each part into a very thin flatbread.
Apply the topping to each flatbread, evenly distributing it over the surface, leaving small edges.
Bake the lahmacun in an oven preheated to 200 degrees for about 10-15 minutes.
Nutrition Facts (per serving)
Calories: 220 kcal 
Proteins: 10 g 
Fats: 8 g 
Carbohydrates: 25 g

0

25 Jun