Sweet and Sour Sauce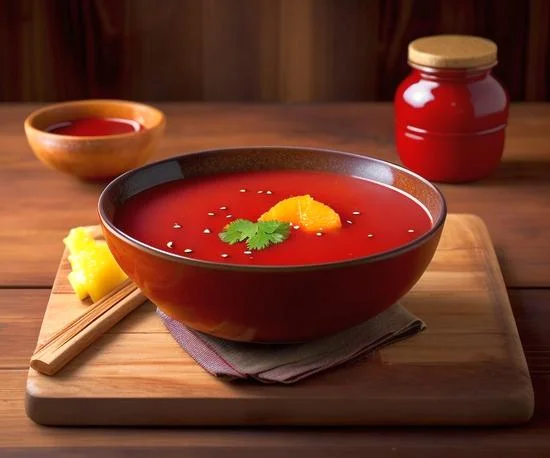 Sweet and sour sauce is a versatile sauce that's perfect for chicken, pork, or vegetables. This homemade recipe is easy to make and includes just a few basic ingredients. The sauce can be stored in the refrigerator for up to one week.
Ingredients
1/2 cup of ketchup, 
1 teaspoon of soy sauce, 
1/3 cup of white sugar, 
1/4 cup of white vinegar, 
1/2 cup of pineapple juice, 
1 tablespoon of cornstarch, 
2 tablespoons of water
20m
cooking
time
8
number
servings

Recipe Difficulty: Easy
How to Make Sweet and Sour Sauce
In a medium saucepan, combine the ketchup, soy sauce, sugar, vinegar, and pineapple juice. Bring to a boil over medium heat, stirring constantly.
In a small bowl, mix together the cornstarch and water until smooth.
Slowly pour the cornstarch mixture into the boiling mixture, stirring constantly. The sauce should start to thicken.
Reduce the heat to low and simmer the sauce for another 5-10 minutes until it's thick enough.
Turn off the heat and let the sauce cool. It will thicken as it cools.
This sauce is perfect for chicken, pork, or vegetables. You can store it in the refrigerator in an airtight container for up to 1 week.
Nutrition Facts (per serving)
Calories: 70 kcal 
Protein: 0.5 g 
Fat: 0.1 g 
Carbohydrates: 17 g 
Fiber: 0.2 g 
Sugar: 14 g

0

23 Jun