Pine Cone Jam with Honey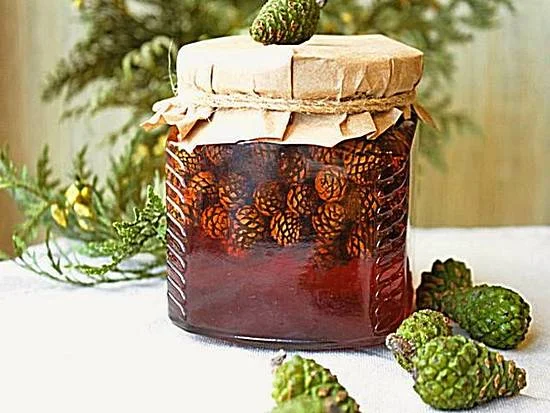 Prepare a delicious and healthy pine cone jam with honey using our homemade recipe. This unique dessert will surprise you with its distinctive taste!
Ingredients
Pine cones - 30 pieces (young, about 3-5 cm in size), 
Sugar - 1 kg, 
Water - 1 liter, 
Honey - 2 tablespoons
1h 30m
cooking
time
4
number
servings

Recipe Difficulty: Medium
How to Make Pine Cone Jam with Honey
Collection and preparation of cones. Collect young pine cones. They should be soft and no larger than 5 cm in diameter. Rinse them thoroughly under running water to remove all impurities.
Preparation of syrup. Pour water into a saucepan, add sugar, and put it on the fire. Cook until the sugar is completely dissolved.
Cooking cones. When the syrup is ready, add the pine cones to it. Cook them over low heat for about 1 hour. During cooking, the cones should become transparent.
Adding honey. When the cones become transparent, add honey to the jam and mix well. Cook for another 5-10 minutes.
Packing the jam. Pour the hot pine cone jam with honey into sterilized jars and close with lids. Leave the jars to cool upside down.
Storage. After completely cooling down, the jars can be stored in a cool dark place.
Pine cone jam with honey is ready! This is a tasty and healthy treat that can be used as a standalone dessert or added to tea.
Nutrition Facts (per serving)
Calories: 250 kcal 
Protein: 0 g 
Fat: 0 g 
Carbohydrates: 65 g

0

05 Jun