Green Borscht with Nettle and Chicken Breast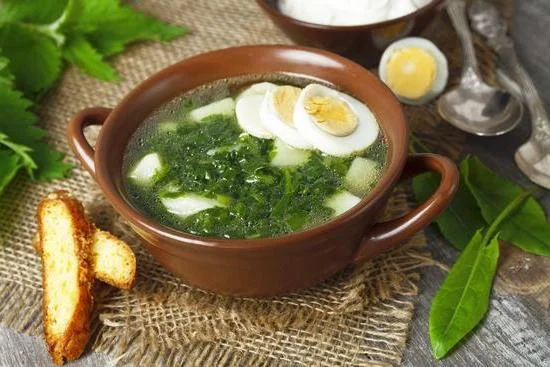 Dive into the aroma and flavors of green borscht with nettle and tender chicken breast. This step-by-step recipe offers a simple and delicious way to prepare borscht, where juicy chicken breast combines with flavorful vegetables, fresh nettle, and aromatic spices. By following the detailed instructions, you will create a dish that delights with its taste and warms you up on cold days. Serve this green borscht with a slice of fresh bread or sour cream for a complete culinary experience. Cook and savor this amazing combination of taste and nourishment that will add a special charm to your lunch or dinner.
Ingredients
500g chicken breast (boneless and skinless), 
1 large onion, chopped, 
3-4 cloves of garlic, minced, 
4-5 potatoes, peeled and diced, 
200g fresh nettle leaves (remember to wear gloves to avoid stings), 
1 large fresh tomato, diced, 
1 green bell pepper, sliced, 
1 carrot, diced, 
1 tablespoon olive oil, 
Salt and pepper to taste
50m
cooking
time
6
number
servings

Recipe Difficulty: Medium
How to Make Green Borscht with Nettle and Chicken Breast
Step 1: Prepare the Chicken Breast
Heat a skillet over medium heat and add olive oil. 
Sear the chicken breast until golden brown on both sides. 
Remove the chicken from the skillet and cut it into small pieces. Set aside for later use.
Step 2: Make the Borscht
In a large pot, heat olive oil over medium heat. 
Add the chopped onion and minced garlic, sauté until softened and fragrant, about 5 minutes. 
Add the diced carrot and bell pepper, and continue cooking for another 5 minutes until the vegetables become tender. 
Add the diced potatoes and tomatoes to the pot, stir well, and cook for 2-3 minutes. 
Then add the fresh nettle leaves and sauté for an additional 1-2 minutes. 
Pour enough water into the pot (approximately 1.5 liters) to cover all the ingredients, and bring it to a boil. 
Season with salt and pepper to taste. 
Reduce the heat, cover the pot with a lid, and simmer for about 15-20 minutes until the potatoes are tender.
Step 3: Serving
Add the diced chicken breast to the pot with the borscht. 
Continue to cook for another 5-10 minutes to heat the chicken thoroughly and allow the flavors to blend. 
Check the potatoes for doneness; they should be soft. 
Taste the borscht and adjust the seasoning with more salt and pepper if needed.
Step 4: Serving
Serve the green borscht with nettle and chicken breast hot. 
Ladle a portion of borscht into a deep bowl and garnish with fresh herbs like dill or parsley. 
Serve with a slice of fresh bread or a dollop of sour cream, if desired.
Enjoy your meal!
Nutrition Facts (per serving)
The nutritional values may vary depending on specific ingredients and quantities used, but here is an approximate nutritional breakdown per serving of green borscht with nettle and chicken breast (assuming the recipe serves 4-6 portions):
- Calories: around 250-300 calories 
- Protein: approximately 25-30 grams 
- Fat: around 5-8 grams 
- Carbohydrates: about 25-30 grams 
- Vitamin A: significant amount due to nettle and vegetables 
- Vitamin C: sufficient amount due to vegetables 
- Iron: small amount due to chicken breast and vegetables
Please note that these values are approximate and can vary depending on the specific ingredients and their quantities, as well as the serving size. For precise information on the nutritional content of the recipe, it is recommended to use specialized online calculators or consult with a dietitian.

0

11 May