Italian Chicken Marinade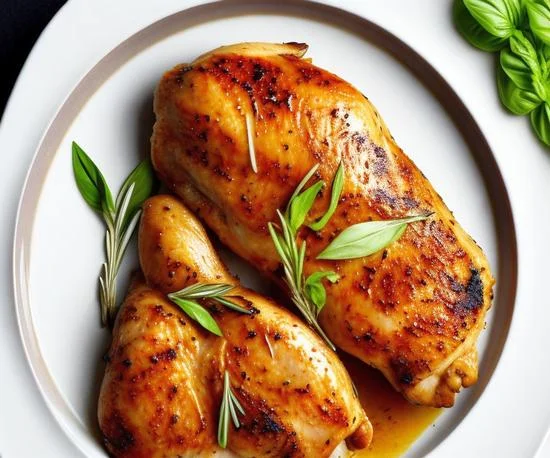 This Italian Chicken Marinade recipe will transform your regular chicken into a gourmet meal. The marinade, based on olive oil, balsamic vinegar, and spices, will give the chicken a unique flavor.
Ingredients
4 chicken breasts, 
1/2 cup of olive oil, 
1/4 cup of balsamic vinegar, 
4 cloves of garlic, minced, 
1 teaspoon of dried basil, 
1 teaspoon of dried oregano, 
1/2 teaspoon of salt, 
1/2 teaspoon of freshly ground black pepper
2h 30m
cooking
time
4
number
servings

Recipe Difficulty: Medium
How to Make Italian Chicken Marinade
In a bowl, mix together the olive oil, balsamic vinegar, minced garlic, dried basil, dried oregano, salt, and pepper. This is your marinade.
Place the chicken breasts into the marinade. Make sure the chicken is fully coated in the marinade.
Cover the bowl and leave it in the refrigerator for 2-24 hours. The longer the chicken marinates, the more flavorful it will be.
After marinating, take the chicken out of the refrigerator and let it rest at room temperature for about 15-20 minutes before cooking.
You can cook the chicken on a grill, in the oven, or on a stovetop, depending on your preference. If you're using a grill or stovetop, cook the chicken over medium heat until it's fully cooked (the internal temperature should reach 165 degrees Fahrenheit). If you're using an oven, cook the chicken at 375 degrees Fahrenheit for about 20-25 minutes.
After cooking, let the chicken rest for 5 minutes before serving. This will help keep the juices inside the meat, making it more juicy and flavorful.
Enjoy your meal!
Nutrition Facts (per serving)
Calories: 410 
Protein: 35g 
Fat: 27g 
Carbohydrates: 3g 
Sodium: 350mg 
Fiber: 0g 
Sugar: 2g

0

04 Jun