Cottage Cheese-Coconut Muffins with Gooseberries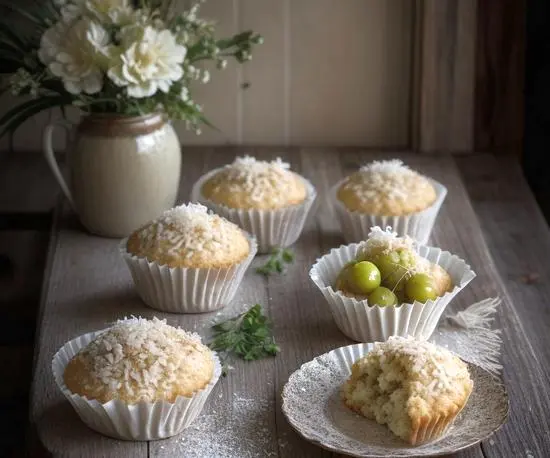 Cottage Cheese-Coconut Muffins with Gooseberries combine the softness of cottage cheese, the exotic touch of coconut, and the tang of gooseberries. These muffins are perfect for morning tea or an evening dessert. The lightness and aroma of coconut are complemented by hints of gooseberry, making every bite a true delight. The preparation is straightforward, and the result will please everyone in the household.
Ingredients
Cottage cheese - 250g, 
Desiccated coconut - 100g, 
Gooseberries - 150g, 
Eggs - 2, 
Sugar - 100g, 
Baking powder - 1 tsp, 
Flour - 200g, 
Vanilla sugar - 1 sachet, 
A pinch of salt
40m
cooking
time
12
number
servings

Recipe Difficulty: Medium
How to Make Cottage Cheese-Coconut Muffins with Gooseberries
Preparation of Ingredients. Measure out all the necessary ingredients. Wash and dry the gooseberries.
Preparing the Batter. In a deep bowl, combine the cottage cheese, eggs, sugar, and vanilla sugar. Mix well until you get a smooth consistency.
Adding Dry Ingredients. Gradually add the flour mixed with baking powder and the desiccated coconut. Mix until the batter is smooth.
Incorporating the Gooseberries. Add the gooseberries to the batter and gently fold them in.
Shaping the Muffins. Preheat the oven to 180°C (350°F). Line muffin tins with paper liners and fill them 2/3 full with the batter.
Baking. Place the muffin tins in the oven and bake for 20-25 minutes or until they have a golden crust. You can check for doneness by inserting a wooden skewer into a muffin; if it comes out clean, the muffins are ready.
Cooling. Allow the muffins to cool in the tins for 10 minutes, then remove them and let them cool completely on a wire rack.
Tip: For an added burst of flavor, you can incorporate some lemon or orange zest into the batter.
Enjoy your meal!
Nutrition Facts (per serving)
Calories: 180 kcal 
Proteins: 6 g  
Fats: 8 g 
Carbohydrates: 20 g 
Dietary Fiber: 2 g 
Sugars: 10 g

0

20 Aug