Potato Salad with Peas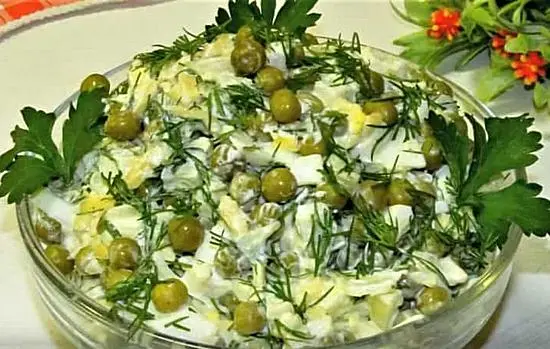 Potato salad with peas, radishes, carrots, and cucumber is a hearty and delicious salad suitable for any table. Boiled potatoes, fresh vegetables, and creamy mayonnaise create a harmonious taste that the whole family will love. Simple to prepare and magnificent in taste!
Ingredients
Potatoes – 4-5 medium-sized, 
Green peas (canned or fresh) – 1 cup, 
Red onion – 1 piece, 
Radishes – 10-12 pieces, 
Carrots – 2 medium-sized, 
Cucumber (fresh) – 1-2 pieces, 
Mayonnaise or sour cream – 3-4 tbsp,  
Salt, pepper – to taste, 
Dill or parsley – for garnish (optional)
40m
cooking
time
6
number
servings

Recipe Difficulty: Medium
How to Make Potato Salad with Peas
Preparing the potatoes: Peel the potatoes and boil them in salted water until cooked. Once done, let them cool and cut them into small cubes.
Preparing the peas: If you're using fresh peas, boil them in slightly salted water until they're cooked. If using canned peas, simply drain the liquid.
Preparing the onion: Peel and finely chop the onion. If you're not a fan of the strong onion flavor, you can marinate the chopped pieces in vinegar or lemon juice for 10 minutes, then rinse.
Preparing the radishes: Clean the radishes and slice them into thin rounds.
Preparing the carrots: Peel the carrots, boil them until they're half-cooked, let them cool, and then slice them into thin rounds or grate them.
Preparing the cucumber: Peel the cucumber (if the skin is tough) and dice it.
Mixing the ingredients: In a deep bowl, combine the potatoes, peas, onion, radishes, carrots, and cucumber. Add mayonnaise or sour cream, salt, and pepper to taste. Mix thoroughly.
Garnishing: Transfer the salad to a beautiful bowl or plate and sprinkle with fresh dill or parsley.
Serving: Serve the salad chilled. It pairs perfectly with meat dishes or just bread.
Enjoy your meal!
Nutrition Facts (per serving)
Calories: 250 kcal 
Proteins: 5 g 
Fats: 12 g 
Carbohydrates: 30 g 
Dietary Fiber: 4 g 
Sugars: 4 g

0

14 Aug