Kefir Pie with Fruits and Berries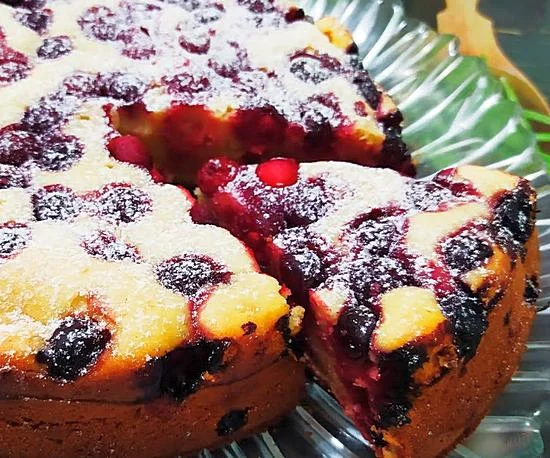 This delicious and fragrant kefir pie with fruits and berries is the perfect choice for a cozy tea party. The bright taste of fresh fruits and berries combined with a tender sponge creates a unique flavor bouquet. Easy to prepare, this pie is sure to become a favorite treat for the whole family.
Ingredients
Flour - 2 cups, 
Sugar - 1 cup,  
Kefir - 1 cup, 
Vegetable oil - 1/2 cup, 
Eggs - 2 pcs., 
Baking soda - 1 tsp, 
Fruits (apples, pears, peaches, etc.) - 2-3 pcs., 
Berries (raspberries, blueberries, strawberries, etc.) - 1 cup, 
Vanilla sugar - 1 packet
1h 10m
cooking
time
8
number
servings

Recipe Difficulty: Medium
How to Make Kefir Pie with Fruits and Berries
Preparation of ingredients. Prepare all the necessary ingredients in advance. Clean and cut the fruits and berries into small pieces.
Making the dough. In a large bowl, mix the flour, sugar, baking soda, and vanilla sugar. In another bowl, beat the eggs, add the kefir and vegetable oil. Then combine the dry and liquid ingredients, stirring thoroughly until smooth.
Adding fruits and berries. Add the chopped fruits and berries to the dough, gently mix.
Baking the pie. Pour the dough into a baking form, previously greased with oil or lined with baking paper. Bake in a preheated oven at 180 degrees Celsius (356 degrees Fahrenheit) for about 40-50 minutes, or until golden brown.
Cooling and serving. Allow the pie to cool completely before cutting it. Serve with a cup of tea or coffee.
Enjoy your meal!
Nutrition Facts (per serving)
Calories: 320 kcal 
Proteins: 6 g 
Fats: 10 g 
Carbohydrates: 52 g

0

17 Jul