Greek Couscous Salad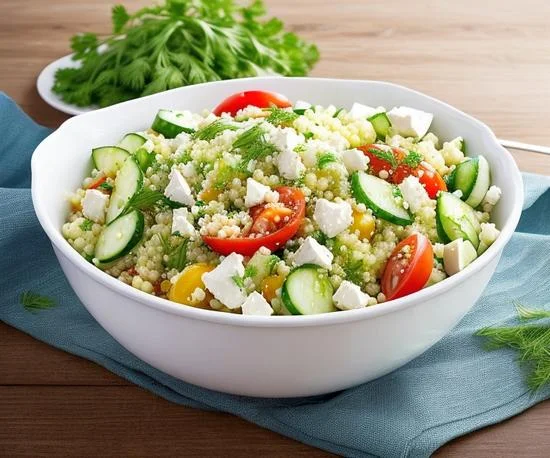 Detailed recipe of Greek couscous salad. A perfect blend of vegetables, feta, and aromatic herbs with tender couscous. Ideal for a light lunch or dinner. Try making it!
Ingredients
Couscous - 1 cup, 
Hot water - 1 cup, 
Olive oil - 2 tablespoons, 
Lemon juice - 2 tablespoons, 
Salt - to taste, 
Black pepper - to taste, 
Cucumbers - 2, 
Tomatoes - 2, 
Red onion - 1, 
Olives - 1/2 cup, 
Feta cheese - 200 grams, 
Fresh mint - to taste, 
Fresh dill - to taste
20m
cooking
time
4
number
servings

Recipe Difficulty: Easy
How to Make Greek Couscous Salad
In a large bowl, mix the couscous with hot water. Cover the bowl and leave it for 5 minutes for the couscous to absorb the water.
In a separate bowl, mix the olive oil, lemon juice, salt, and pepper. This will be your dressing.
Once the couscous has absorbed the water, fluff it with a fork to break up any clumps.
Add the chopped cucumbers, tomatoes, onion, olives, and feta cheese cubes to the bowl with the couscous.
Pour the dressing over everything and mix well.
Add the finely chopped mint and dill, and mix again.
Serve the salad immediately or leave it in the fridge for a few hours for the flavors to mingle.
Enjoy your meal!
Nutrition Facts (per serving)
Calories: 350 kcal 
Protein: 12 g 
Fat: 15 g 
Carbohydrates: 45 g 
Dietary Fiber: 6 g 
Sugar: 5 g

0

08 Jul