Carrot Cake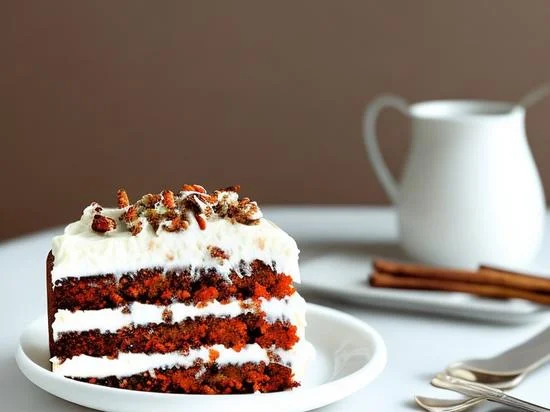 Prepare a delicious and tender carrot cake with our step-by-step recipe. This recipe includes detailed instructions for making the cake and cream. Surprise your guests with this wonderful dessert!
Ingredients
Carrot - 300 g, 
Sugar - 200 g, 
Vegetable oil - 100 ml, 
Eggs - 4 pcs., 
Flour - 200 g, 
Baking powder - 1 tsp, 
Cinnamon - 1 tsp, 
Nuts (walnuts or pecans) - 100 g, 
Salt - a pinch
For cream:
Cream cheese - 200 g, 
Powdered sugar - 100 g, 
Cream 33-35% - 100 ml, 
Vanilla extract - 1 tsp
2h 0m
cooking
time
10
number
servings

Recipe Difficulty: Medium
How to Make Carrot Cake
Start by preparing the carrots. Peel and grate them on a fine grater.
In a large bowl, combine sugar, vegetable oil, and eggs. Beat everything together until smooth.
In another bowl, mix the flour, baking powder, cinnamon, and salt. Then gradually add this dry mixture to the wet one, constantly stirring.
Add the grated carrots and chopped nuts to the dough and mix well.
Pour the dough into a baking form, previously greased with oil and sprinkled with flour.
Bake in a preheated oven at 180 degrees for about 40-50 minutes. You can check the readiness of the cake with a wooden skewer - it should come out of the cake dry.
While the cake is cooling, prepare the cream. Beat the cream cheese with powdered sugar, then add cream and vanilla extract. Beat until you get a fluffy cream.
When the cake has completely cooled, cut it into two parts and layer with cream. Then cover the top and sides of the cake with the remaining cream.
Decorate the cake as desired, for example, with nuts or marzipan carrots.
Enjoy your meal!
Nutrition Facts (per serving)
Please note that these values are approximate and can vary depending on the specific ingredients you use.
Calories: 350 kcal 
Protein: 6 g 
Fat: 20 g 
Carbohydrates: 40 g 
Dietary Fiber: 2 g 
Sugar: 25 g
This carrot cake is a source of protein and contains healthy fats from the nuts. However, like any dessert, it should be consumed in moderation due to its high sugar content.

0

31 May